The Best Life Jackets For Sailing
At the risk of sounding to cliche, the best life jacket for sailing is the one you wear. Unfortunately, no matter how feature-rich a life jacket is, it's no good stuffed away in a locker when it's needed most.
For this reason, the sailing life jacket you invest in needs to be comfortable to wear. And while several other considerations should factor in your buying decision, this is paramount. From a decade worth of experience, I can tell you that rigid life jackets are not comfortable. So that is why there are only inflatable life jackets on this list.
If you are in a hurry, then the TL;DR (To Long Didn't Read) list is below and includes the best entry-level life jacket for sailing, the best coastal life jacket for sailing, the best ocean life jacket for sailing, and the best overall life jacket for sailing.
Pros:

Lightweight construction

Durable material

HRU inspection window

Manual release toggle

Pros:

Designed for pro sailors

SOLAS-approved features

elite performance life jacket

Pros:

Sailors of various skill levels

Ergonomic design

Dual manual backup systems
Best Entry Level
Pros:
Lightweight construction

Durable material

HRU inspection window

Manual release toggle
Best Ocean
Pros:
Designed for pro sailors

SOLAS-approved features

elite performance life jacket
Best All-Around
Pros:
Sailors of various skill levels

Ergonomic design

Dual manual backup systems
09/20/2023 10:19 pm GMT
Before diving deeper into sailing life jackets, this article assumes that you have a basic knowledge of the differences between life jackets and personal flotation devices (PFDs). Also, the terms life jacket and life vest may be used interchangeably.
Now let's get into it!
🫰 The Best entry level life jacket for sailing
For those sailors who have recently taken up the addictive habit of trimming sails when the wind is blowing. Since you won't be ready to spend generously just yet, and you hopefully won't be venturing too far from the port, here is our recommendation.
M.I.T. 100 Inflatable Life Jacket
A fantastic option if you are looking for versatility beyond sailing. It's lightweight and comfortable, so wearing it on deck will be pleasant. The sleek design covers the self-inflating bladders discreetly with velcro along the outer edge of the life jacket.
The outer material is lightweight and durable, so you don't need to be too concerned about tearing or snagging it while you work outside on the deck.
This personal flotation device (PFD) includes several safety benefits. Such as the clear inflator inspection window so you can view the hydrostatic release unit (HRU) without having to open the life jacket to inspect it. I can tell you from experience that having this feature is a huge time saver if you need to check multiple jackets, and it's typically only a premium feature.
In addition to the automatic inflation capability, a marked yellow manual release toggle is available to the wearer, and a mouthpiece for oral inflation. When fully inflated, the M.I.T 100 provides 28lbs of buoyancy.
So if you are a recreational sailor that does not require regular commercial inspection, this life jacket is an excellent addition to your life-saving appliance equipment onboard.
Pros:
Lightweight construction paired with good versatility
The durable material also means you can adequately sail without fear of damaging the jacket
Handy HRU inspection window when doing routine maintenance
Manual release toggle and mouthpiece
Cons:
It won't cut it when you plan more adventurous sailing trips
Not made in the USA
⛵ The best coastal life jacket for sailing
This is our recommendation for those who are out sailing whenever the wind blows. Whether it be day sailing or even multi-day sailing, all within a reasonable distance of a safe haven.
Automatic Inflatable DeckVest™ 6D with Harness
From personal experience, I can tell you that Spinlock makes some of the most comfortable life jackets and life vests on the market today. So much so that we routinely offer them to super yacht charter guests ahead of every other brand.
Their latest DeckVest™ 6D is no different. Some key features in this iteration are the crotch straps now being placed on the side of the jacket, and the addition of a harness release system to free you from tethers is needed.
Spinlock is well-known for speaking with sailing experts in their research and development. Their adjustable backstrap now means that the wearer can pull the strap and bring the jacket down off the neck. If you have worn your fair share of life jackets, you'll understand that a subtle change like this makes a significant difference in comfort.
There are also clearly marked manual inflation toggles on the front of the life vest. In addition, it's fully fitted with an HRU that is also self-righting for unconscious persons overboard. There is also a mouthpiece for oral inflation.
The Spinlock 6D comes in various colors, offering good buoyancy of 38lbs when fully inflated. A saltwater-activated light and a spray hood for rough weather are two bonus premium features.
Pros:
Exceptional comfort from a market-leading manufacturer
HRU unit that is automatic and can also be triggered manually
Premium features like a spray hood saltwater illuminated light
Cons:
Checking the CO2 canister can be tricky
Repacking the internal bladder after inspection is difficult
🌊 The best ocean life jacket for offshore sailing
If you are looking for something capable of handling an Atlantic crossing leaving for Grenada from Gibraltar in October, you will require the best. Longer ocean crossings mean you need to be prepared for bad weather.
EP38 Ocean Racing Inflatable Life Jacket with Harness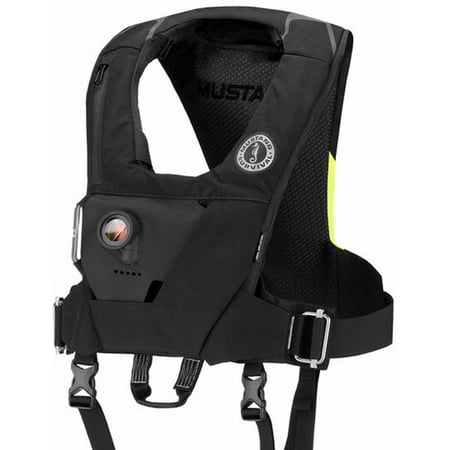 I have featured an ocean racing life jacket as the best you can get on the market because the Mustang EP38 will hold up in foul weather and will compliment your foul weather gear, not hinder it.
The life jacket has an integrated safety harness with a soft shackle at the front. There is also a lifting harness and a back-mounted spray hood that is a SOLAS-approved color.
The design team put a lot of thought into the HRU system. Firstly it will only inflate when submerged in at least 4 inches of water. So humidity in a deck locker isn't enough to trigger the cartridge. Secondly, there is a rigid pull lever than dovetails to the breastplate. So there is no chance of accidentally setting it off. And lastly, they mounted the CO2 canister horizontally so that the wearer has a full range of motion when bending over.
There are two crotch straps to secure the life jacket that can also be stored in the back plate when not in use. Fully inflated, the wearer will have 38lbs of buoyancy. In addition, there are SOLAS-approved tape strips along the inflated bladder, a whistle, internal storage for AIS, and a saltwater-activated strobe light.
The Mustang EP38 is the choice if you require elite performance. So if you are trimming sails or grinding winches in foul weather, then this life jacket is the professional choice.
Pros:
Ergonomic design with professional sailors in mind
Will compliment foul weather gear with its adjustable straps
A well-thought-out HRU construction and design that is the market leader
Packed full of SOLAS-approved features
Cons:
It is expensive, so it'll be out of most budgets, especially if you need multiple
Overkill for most sailors who don't need an elite performance life jacket
💫 The best all-around life jacket for sailing
Mustang Survival Elite Inflatable Life Vest with HIT
Designed for maximum mobility and all-day comfort, the Mustang Survival Elite life jacket is the best all-rounder on this list.
Similar to how the Spinlock 6D provides comfort by removing weight off the neck, so too does the Mustang. The neck material is the same used in the body armor industry and eliminates neck fatigue. In addition, there is a wicking mesh liner on the back to increase comfort for long days out sailing.
The HRU system is similar to the Mustang EP38. It'll only inflate automatically when submerged in at least 4 inches of water, so you can leave it in a humid locker when not in use. And there is an anodized manual pull trigger that sits discreetly on the inner side of the jacket. This prevents any accidental triggering of the CO2 canister.
When it's fully inflated, the wearer will have 28lbs of buoyancy. The bladders a fluorescently colored for better Search And Rescue (SAR) visibility, and there is a safety whistle and a mouthpiece for oral inflation.
A secure zipper keeps the jacket compact and sleek looking, unlike velcro closure jackets which can look messy and can potentially fail.
Pros:
A versatile all-round jacket that sailors of various levels can use
Ergonomic design that gives the wearer all-day comfort no matter the conditions
HRU system that has dual manual backup systems in case of failure
Cons:
The Zipper system is made of metal which will eventually succumb to a saltwater environment
☝️ Our Recommendation Process
Between myself and Craig, we have nearly 20 years' worth of experience within the yachting industry. We have maintained and inspected thousands of SOLAS-approved life jackets.
Our commercial marine background ensured we checked and tested all types of life-saving appliances to the highest of standards. The recommendations we share are 100% impartial and bias-free. We only offer genuine advice on what we have come to know as the best life jackets for sailing from countless hours of testing and inspections.
📃 Buyers Guide for sailing life jackets
There are more life jacket variations than I could possibly cover in the scope of this article. The important things to consider when looking to buy a sailing life jacket are:
How comfortable is the jacket you are buying?
Inflatable life jackets are better for sailing!
Are you pleasure sailing, day sailing, or open ocean sailing?
1. Sailing Life Jacket comfortability
In the beginning, we talked about the most critical component being comfortability. Now there may be some that argue there are other more pressing concerns. But if you aren't comfortable wearing your life-saving appliance, then you are less likely to don it when you should.
Rigid life vests full of foam are not comfortable for sailing, period! More on that in the next section. Look for an inflatable life jacket with adjustable straps that can also factor in clothing changes throughout the day. If the weather turns sour, you may wish you opted for a life vest with better accommodation for wet weather gear.
2. Inflatable life jackets over rigid life jackets
Inflatable life jackets typically have more buoyancy than rigid models. You can still get rigid life jackets with at least 28lbs of buoyancy, but they are a bulky life vest indeed. An inflatable model with equivalent buoyancy will be easier to wear.
In addition, you must consider that the possibility of head injuries in sailing is highest for all water-based sports. Unseen booms have left many sailors face down unconscious in the water, even experienced ones. That is where a self-inflating life jacket comes into play. They are designed to right the wearer face up, thus taking away the danger of drowning until help can get to the casualty.
There are some rigid jackets that have head support. But most do not. Do not be swayed to buy a life jacket with rigid foam around the torso and use it for sailing.
3. Pleasure sailing, day sailing, or open ocean sailing
Ultimately the sailing scenario should determine what sailing life jackets you buy. If you are sailing more than 60NM (Nautical Miles) from a safe haven, then you need a proper life jacket and something rated for the ocean.
You can look at entry-level models before making a more considerable investment if you are just puttering around the bay every now and then.
👨‍⚖️ Our Verdict
In determining the best life jackets for sailing, the most essential thing is that the life vest will be comfortable for long periods.
So that's why Sailing Savvy has chosen the Mustang Survival Elite Inflatable Life Vest with HIT as the best life jacket for sailing all around.
It's packed with premium features and an excellent life jacket for the price. You can get yours from Amazon or Bass Pro Shops below.
If you are still educating yourself on ocean safety, then be sure to browse our sea safety knowledge hub.